What does a mentoring relationship look like?
Mentoring can happen in many ways. It can be between two peers, or between people with different levels of experience. There is short-term and long-term mentoring. There is one-time mentoring, that consists of only one meeting – planned or unexpected – where two people share information and learn from each other.
There are longer-term mentoring relationships where two people establish a supportive interaction while sharing knowledge and insights obtained through experience. Despite the different shapes and forms mentoring relationships take, there is one common thread at the core of all mentoring: learning.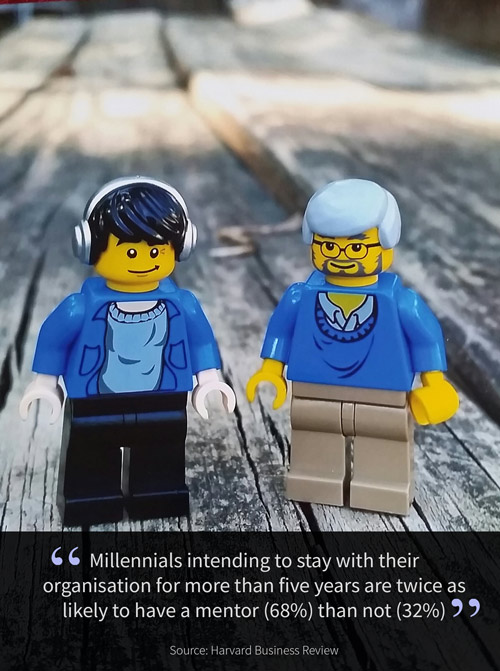 Employers value the ability to learn above all else, according to study
The ability to learn effectively is a key skill employers want to see from prospective employees during the hiring process. This is also an important reason for increased retention of employees. Recently, the Deloitte 2019 Global Human Capital Trends report found that "learning is the top-rated challenge" organisations face, and that the "need to improve learning and development" was rated as important or very important by 86% of respondents (even though only 46% felt ready to face this challenge!).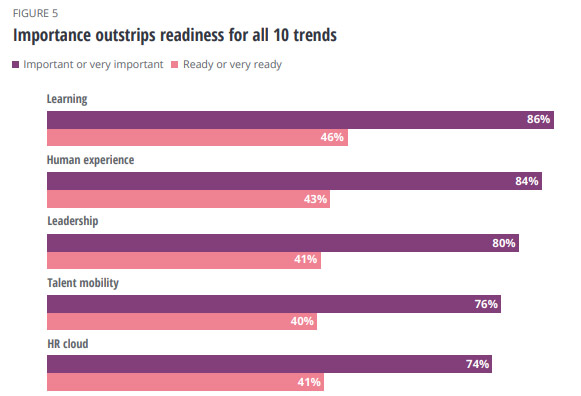 Source: Deloitte Global Human Capital Trends survey, 2019.
The results above demonstrate how important the ability to learn is to businesses today
In mentoring, learning is powerful, continuous and tremendously effective. In every mentoring interaction, there are skills learned. Things like asking for help, articulating your needs, following-up on actions, and questioning yourself, are just a few examples. Even though it is a very individual learning experience for each person involved in the mentoring interaction, there is a progressive journey within mentoring that allows the mentor and mentee to grow together and obtain new information in a unique manner, often in unexpected ways. Learning in mentoring has the following key aspects:
1- Gathering information. In any mentoring exchange, a myriad of new facts will be shared (and learned). From practical information, such as a new coffee shop that has great wi-fi, to exclusive statistics in your field, new information flows quickly and fluidly both ways. It is a fast and effective way of gathering insights that could otherwise be hard to come by.
2- Pre-conceptions and knowledge vs practical experience. Mentees often have lots of information in their heads, and also many expectations and ideas surrounding different topics. However, often, only commercial awareness and experience in a specific industry will develop intuition and prove some ideas right or wrong. Mentoring allows ideas and theory to meet real-world experience, allowing the mentee to have practical insights and be better prepared for the job market. 
3- Refreshing knowledge and staying current. For mentors and mentees, their interactions with each other are opportunities to stay abreast of current trends in their field, discuss any new approaches to systems and processes, and decide which to adopt.
4-Enjoy a truly personalized learning experience. Mentoring combines a professional relationship with a personal connection. Mentors and mentees often share personal thoughts and views, mixed in with all their experience and factual knowledge. The amount of rapport in a mentoring relationship and the ability to spend time focused on specific topics of interest presents a great opportunity for real-life learning and enhanced support for the mentee, unusual for most students. These relationships are mutually beneficial and rewarding, as mentors want to help mentees and mentees are inspired by mentors. This allows for learning within mentoring to be as personalized and fluid as possible, enabling effective learning experiences for everyone involved. 
The skills learned in mentoring tend to be lifelong and applicable to many situations. This means that what is learned through mentoring allows the mentors and mentees to be better in different scenarios at different times and within different contexts. This allows the mentor and mentee to develop a growing and evolving portfolio of skills that will enhance their ability to pursue their goals and achieve them. 
Want to see how Aluminate can help develop your mentoring program? Book your free demo.