Reasons to Transform
Your Membership
Community
Create Powerful Network Effects
Connect your members to each other by enabling member to member connections for exchanging advice, opportunities and support. The more members join, the more valuable their membership becomes.
Globalize Your Relevance
Digital membership spaces ensures your members can interact across borders, ensuring you are delivering value wherever they are, and whether members are able to meet in person or not.
Manage Memberships at Scale
An advanced community platform allows you to scale up your membership to millions of users whilst still keeping their experienced tailored. Retain your personal touch without needing to hire an army of staff.
Increase Membership Revenue
People understand 'it is who you know' that matters. Offering your members an indispensable digital network justifies increased the value of membership driving more member registrations and higher revenues.
Connected Members Remain Members
When members form deeper connections with each other, they strengthen their sense of community and belonging, making them more likely to retain their membership.
Obtain Critical Insights
Powerful analytical tools help you truly understand what your members care about and are searching for, enabling you to optimize your membership strategy to appeal to their needs.
Premium Engagement Modules
Enhance your platform with a range of relationship-driven, content-driven and administrative modules.
Member Directory
Create your perfect user profile page and then deliver dynamic discovery pages to enable your members to search and connect with others in your Membership.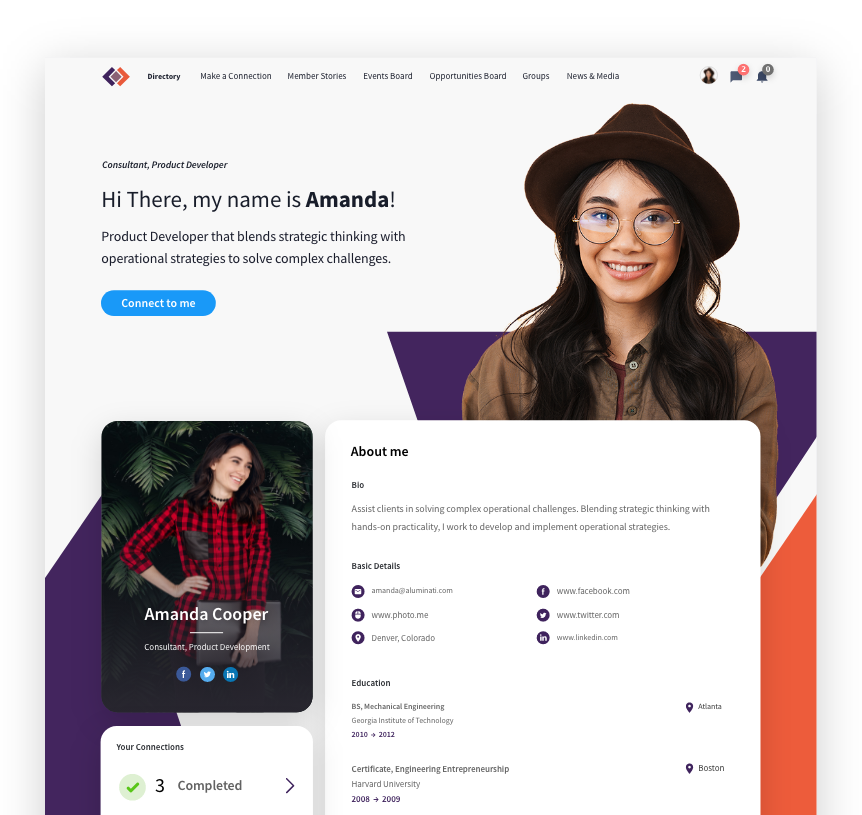 Interactive Chat Messaging
Beautiful chat, but more. Aluminate includes a fluid and intuitive chat interface used not only for traditional messaging but also coordinates actions such as handling inter-member connection requests. Users can view the full history of their relationships on a single channel.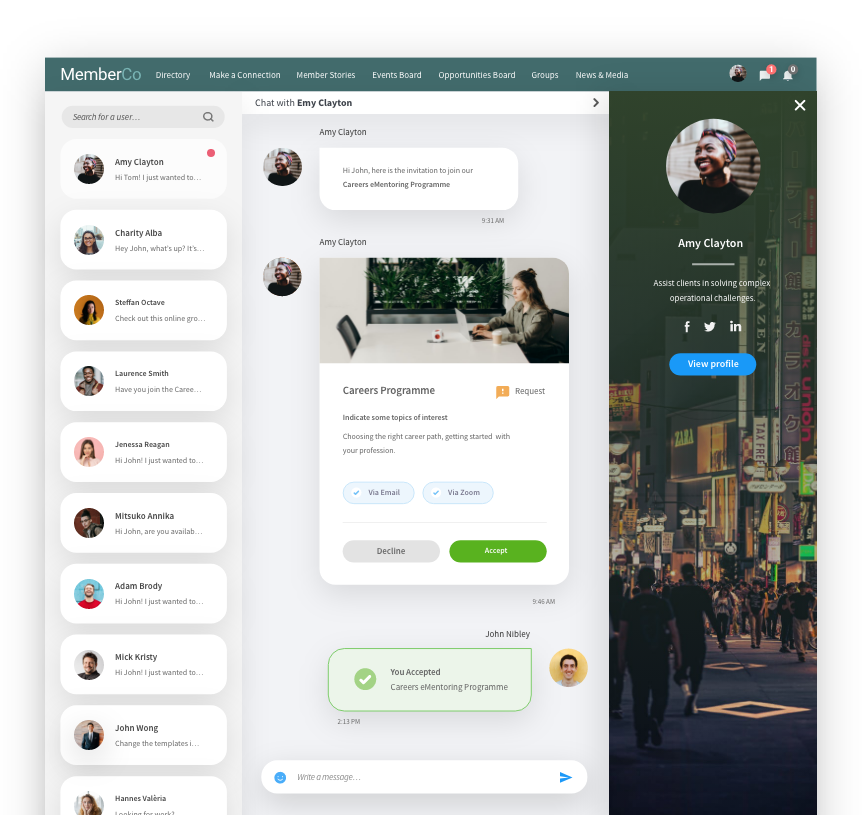 Membership Connection Networks
Deploy multiple targeted, self-organizing member networks, each focused at meeting the specific needs of each part of your community. These are often deployed as highly effective peer-to-peer mentoring networks.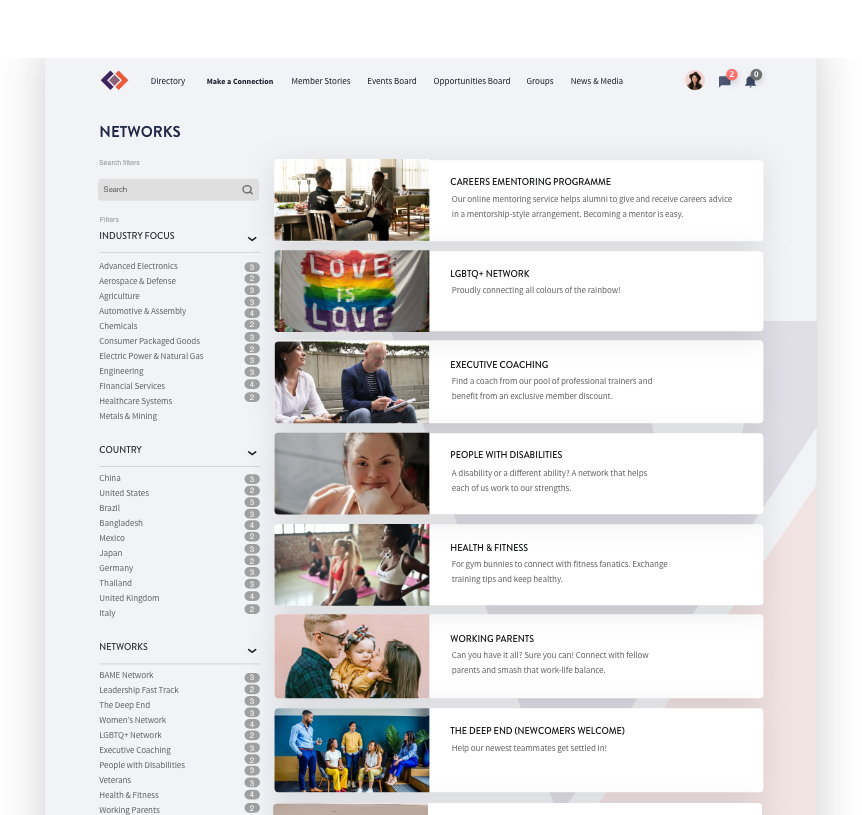 Member Groups
Create unlimited groups based on region, location, interests , department and more. Appoint staff, or even volunteer members, to act as group leaders who manage membership requests, content and discussions.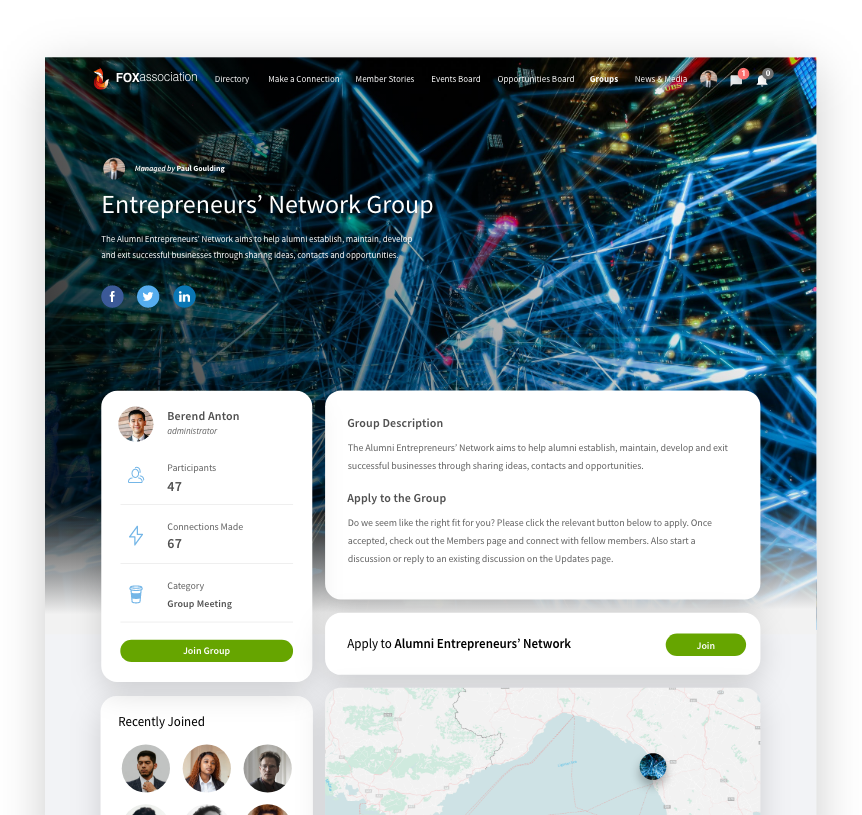 Knowledge Center
Share your photos, articles, documents, videos and other media in this flexible digital media repository.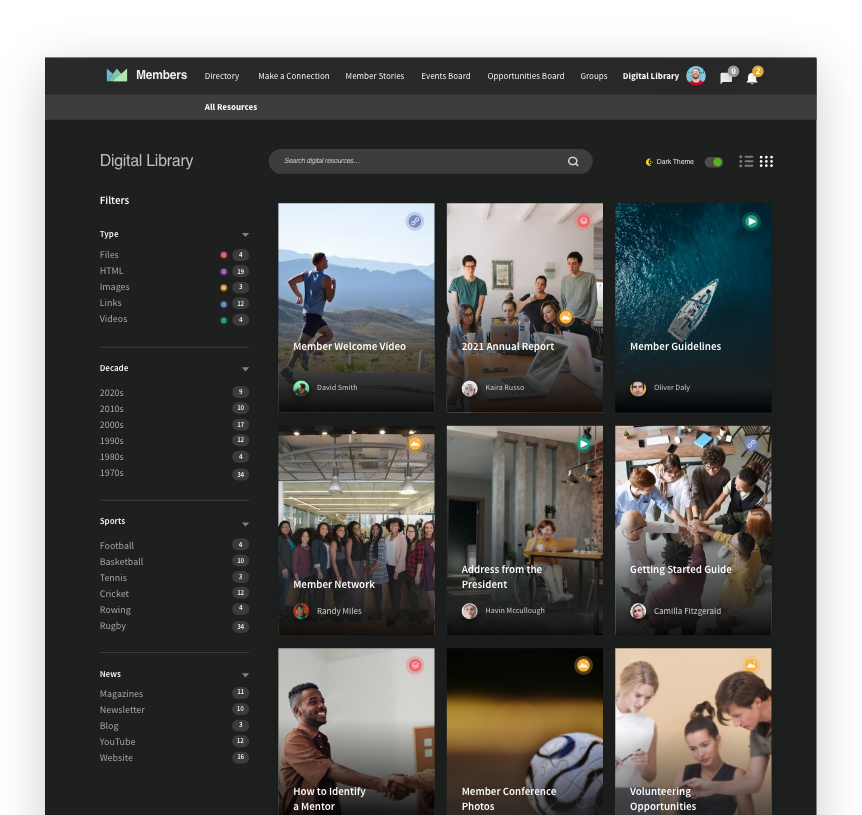 Opportunities Board
Exciting internal opportunities for your members to share and access, encouraging collaboration and internal progression.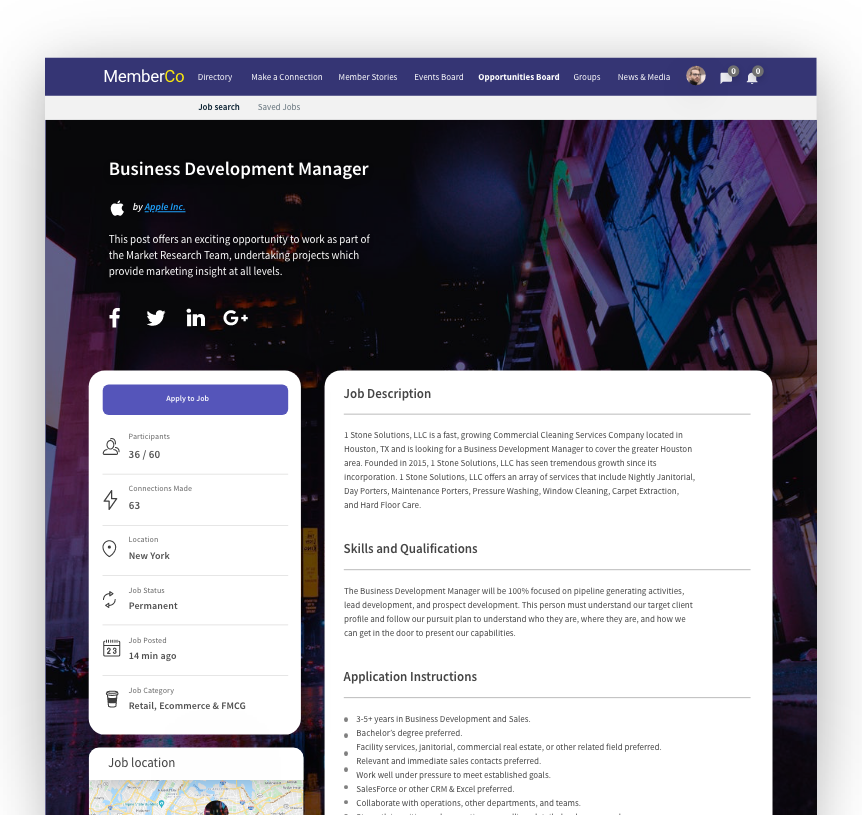 Events Board
Make sure your member community stays aware of upcoming events. Including RSVP functionality and attendees lists, each event can link to the ticketing page appropriate for that event – be it your own event system, Eventbrite, Facebook or even a Doodle form.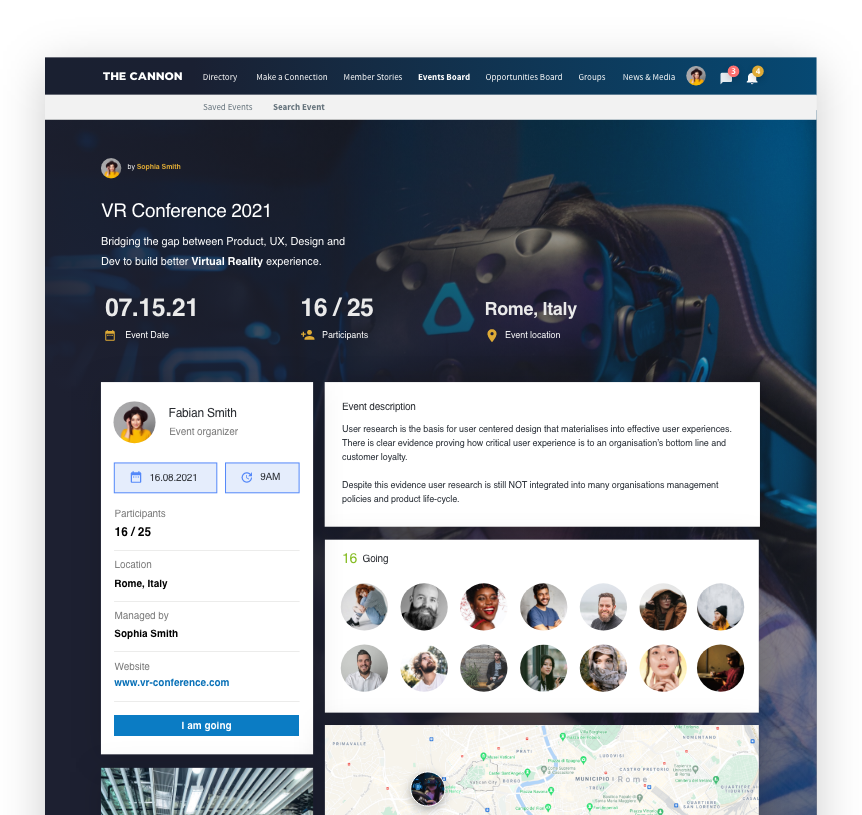 Social Media Centre
Embed an unlimited number of social media feeds from Facebook, Twitter and YouTube and any other social network which permits your company content to be integrated into a tidy board within your platform.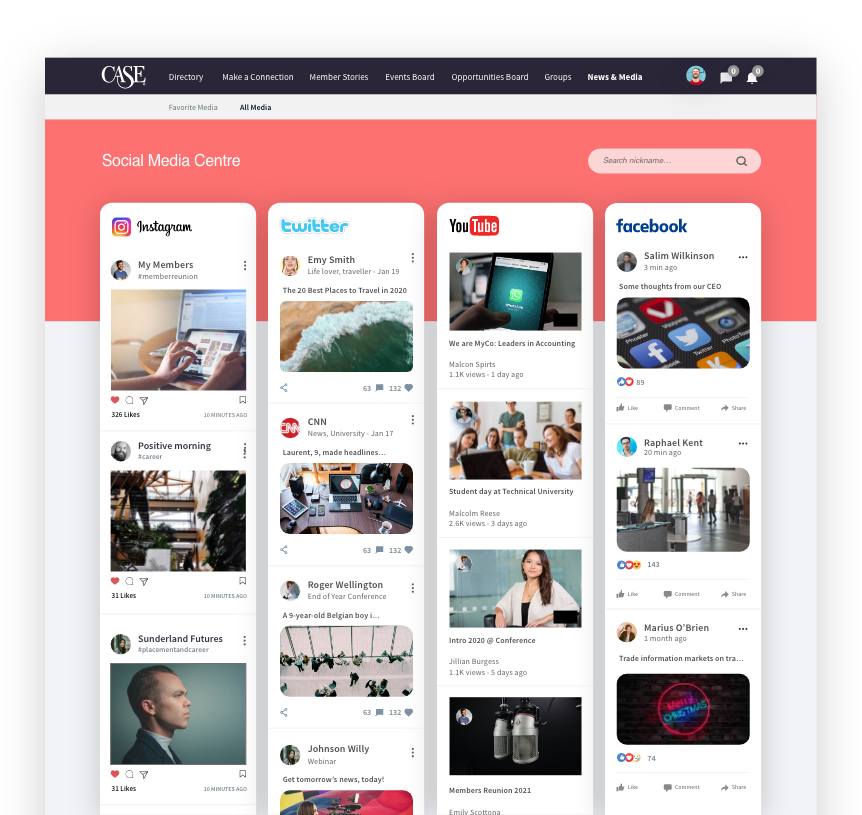 Realtime Dashboard
Display your community's news, highlights and information on an ever changing landing page.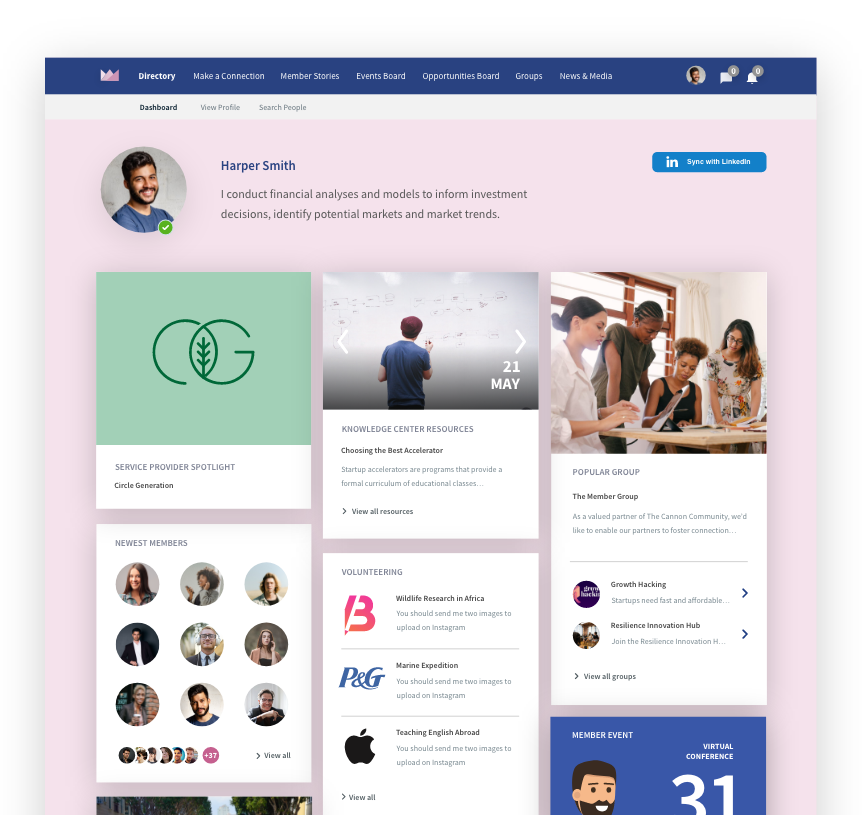 Customisations
You can customise the design, profile fields and every word within your tailored platform so that your members feel truly at home.

Identity Validation
To create a safe and high-trust environment, all registrations are put through a rigorous but efficient identity verification process.

Management Tools
Authorised staff have access to a powerful management area from which they can steward the community, run reports and manage data.

Data Imports and Exports
Use your own data to 'seed' the profiles of users and then export fresh data that users have updated, all tied back to your own database ID.

SSO & Integrations
Advanced installations of Aluminate can benefit from standard or bespoke single-sign-on and data integrations.

Custom User Groups
Aluminate allows you to customise the full experience per user group, be it membership tiers associates, partners staff and more.
Aluminate Engagement Platform
Aluminate brings your WorkCommunity together in your own bespoke online platform. Provide all the support and tools needed for new members to feel included and part of your culture from day one by inviting them to your work community.
Powerful modules allow you to engage and empower your people by providing training, events promotion, mentoring, support groups, opportunities and more, all within your own secure online network.
Aluminate delivers a private online space that encourages the formation of new meaningful inter-member relationships.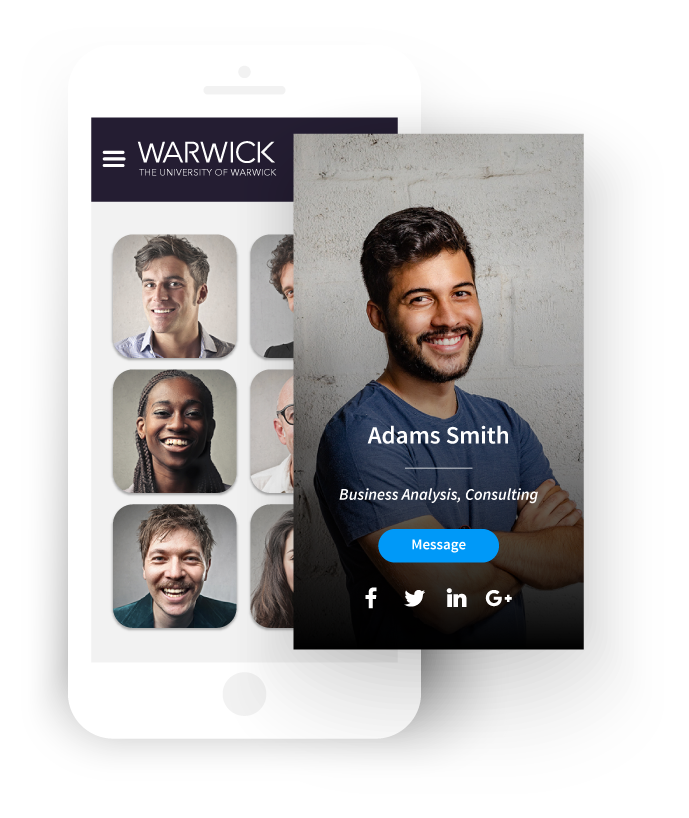 Testimonials
Stories of SUCCESSFUL Aluminate services
e-Mentoring scheme

The e-Mentoring scheme that has been set up at Lincoln College, Oxford, is now one of the College's proudest achievements in my view, giving career advice to students that very few will have access to.