Reading Time:
4
minutes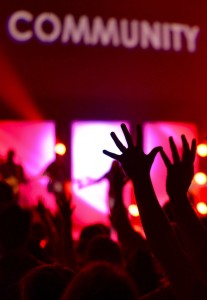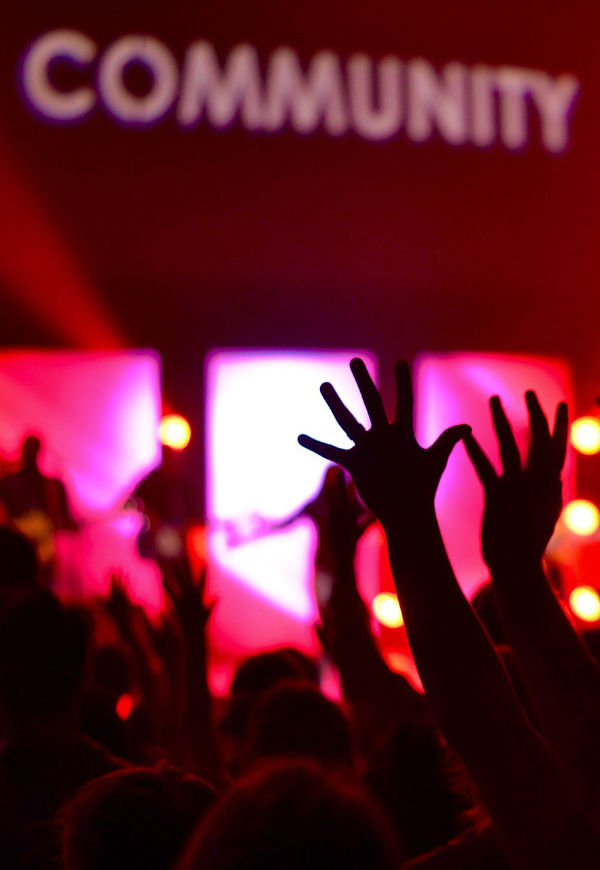 Alumni relations is an ever-changing environment. With the number of alumni growing by thousands every year in many organizations, and the world quickly evolving and changing with new technologies and the globalization of careers, there is no way to predict the challenges and opportunities that we will encounter in the near future.
When executing a project, we rely on the insights of past initiatives to design and measure impact. We know what went right and wrong. We know what the needs of the users have been, so far.
We also know what our internal objectives for the project are, what we hope to gain, and choose a provider and a structure for the project that is compatible with these expectations. 
As we deploy a project, particularly an engagement one, there are many 'forces' around us that are designing and delivering their own initiatives that will sooner or later collide with ours. 
We can divide these forces into three groups: 
Internal stakeholders/factors: 
University's senior management and overall strategy. 

Faculty and departmental plans and needs.

 Students (with evolving priorities and characteristics as expressed in the Student Union strategies and objectives, the National Student Survey (NSS) or other National Surveys, and student societies or activities).

 Fundraising campaign and priorities. 

Changing dynamics of teams directly involved with Alumni initiatives: Careers, Alumni. Staff turnover plays an important role here.
External stakeholders: 
Our main users, Alumni: They change constantly, moving geographically and professionally in different ways, and their needs change rapidly with the world around them.
Your project environment will look like this. Note that even though the project team around the platform leads decisions for it, big forces fill the surroundings and will have to be included in the project over time in various ways.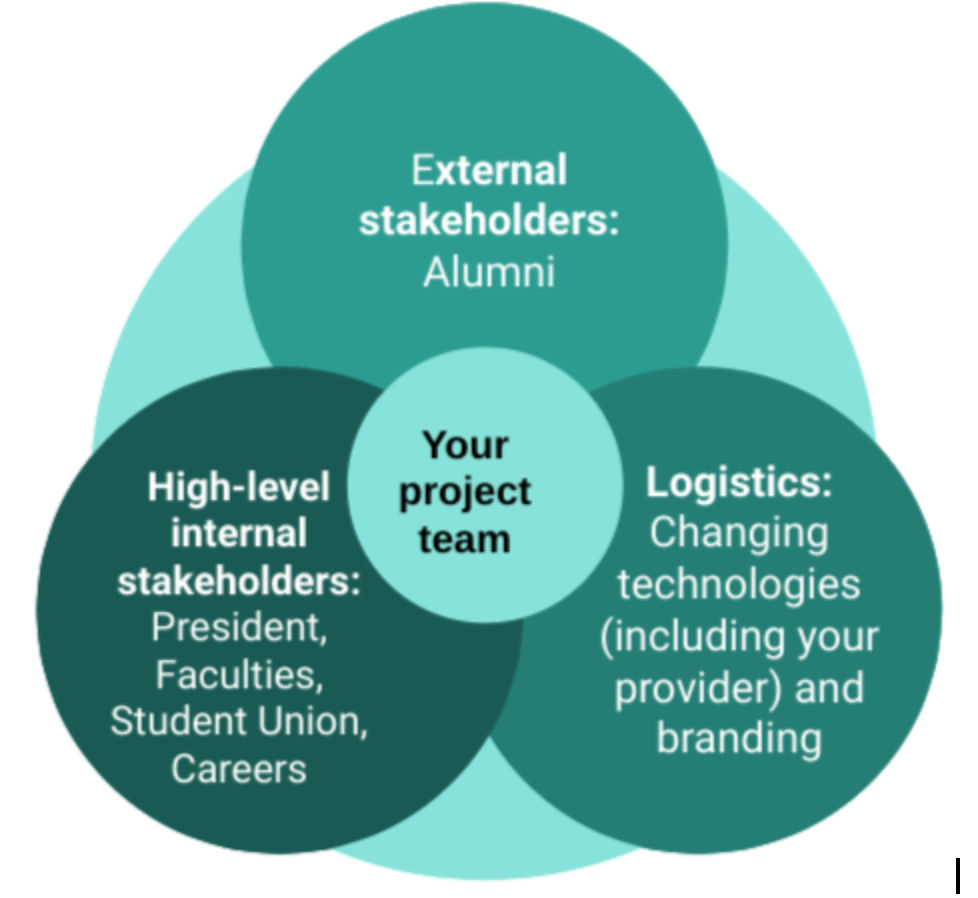 Logistics:
University branding: colours, logos, structural templates, and even wording on a site or platforn will also change over time, and these decisions are usually outside of the remit of the central project team.

Technology: new tools, mobile applications, Whatsapp, all these new ways of communicating and connecting are disruptive, in both positive and challenging ways, to your project. 

Your platform provider: your product may change over time and feature new options to add to your current offering. 
It may look daunting to manage a project that touches so many objectives and stakeholders around your organization, but there are actions to help you manage this challenge.
Main tips on future-proofing your projects
Speak to as many stakeholders as possible to gather insights into their objectives and how your project can meet them before deploying (if possible). This is not about building a project group that is large and unmanageable, rather about gathering information and then fitting it into your project as needed. A good format for this is to frame the meeting as an informational interview opportunity and to have a list of set questions to ask to all stakeholders.

A test group of about 50 people should give you enough insights. Make sure to share a survey with all participants that includes questions around user experience, visuals used, and why users are signing-up to the platform or project.

Run two innovation sessions for big, outside the box ideas. This should include thinking without budget, capacity, or time restrictions in mind, so you can gain real blue sky thinking insights. Later on, you can manage expectations!

Create a timeline and schedule in analysis cycles (at least twice a year). After analyzing the data on your platform, create a template to record desired modifications. This could be changing wording, language, colours or functionality. Keep in mind this may incur extra work, so inform yourself about the process, timelines, limitations and costs of your platform provider.

When choosing a provider for your platform, research the flexibility of the platform to ensure that it can keep up with your evolving needs.
In summary, engagement initiatives, particularly platforms, will evolve over time, making it difficult to predict from the outset exactly what you will need. There are ways you can mitigate the impact of required changes. This comes down to two key things: planning and managing expectations for both internal and external stakeholders so they are also willing and able to pivot and evolve as the project grows and develops.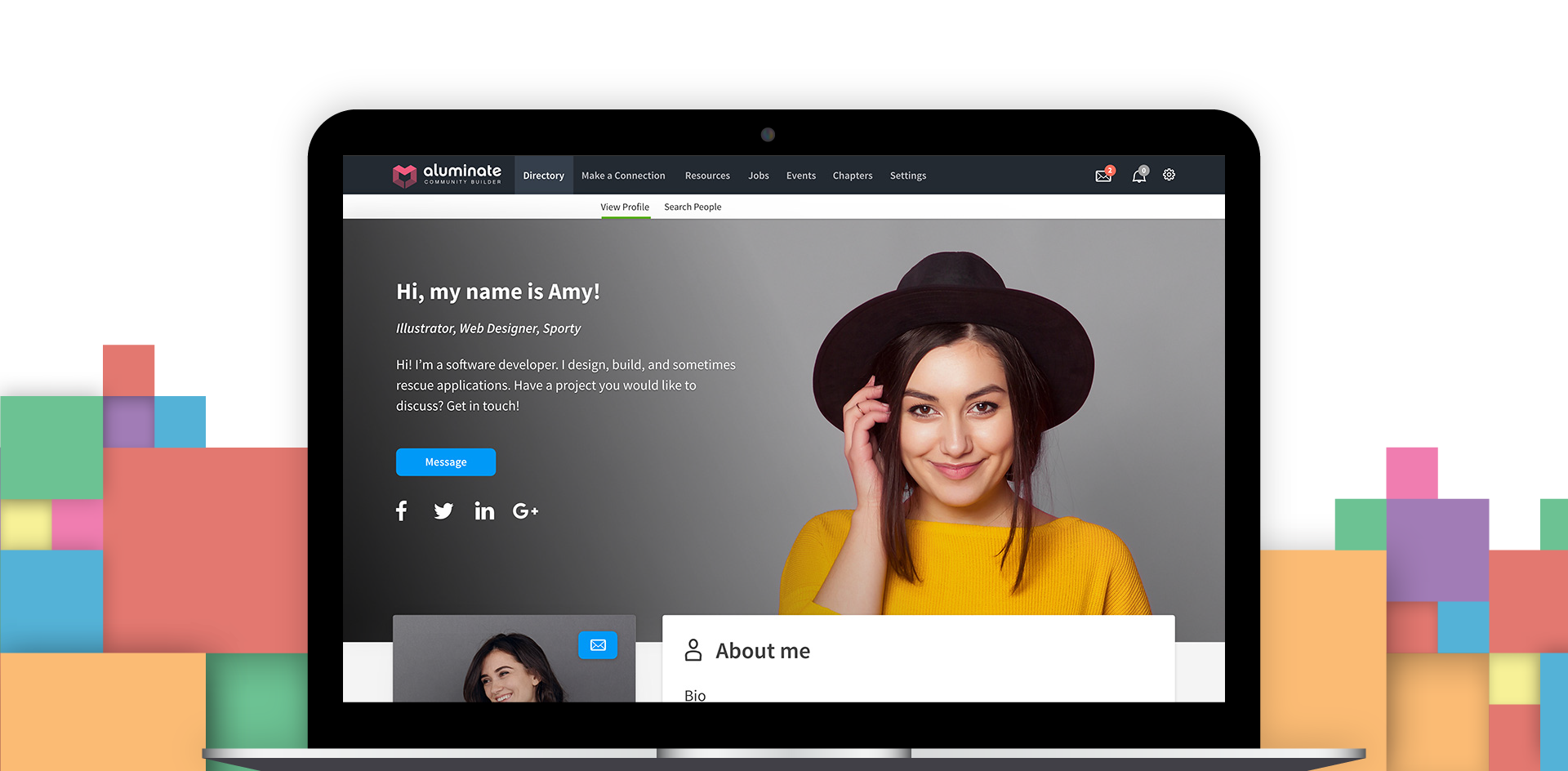 What if you could modify your engagement tool at any time? Find out how Aluminate Community Builder change the landscape of online communities and futureproof your platform. Sign up to our free launch webinar.