Reading Time:
4
minutes
Director's 2020 Service Update
I appreciate it has been a while since my last update. I'm glad to be able to announce some positive developments over the last 12 months.
Headlines:
New Webmail is Live!
Service Stability at an All-Time High (99.999%)
Customer Happiness Ratings (92% 'Great')
New Email Packages Due in 2020
Welcoming Friends & Family in 2020
New Webmail is Live!
I know we have been promising an uplift to our now dated webmail interface for a long long time. Our initial plans for a totally new webmail experience started many years ago but, now, after a couple of false starts, we are happy to introduce a new webmail experience that leverages a much more modern and attractive experience.
New webmail has a completely refreshed look and feel with many new touches including three main mailbox views to suit your screen size. It also resizes when viewed on mobiles although our mobile recommendation continues to be using a proper IMAP connection from your premium Aluminati account to your favourite mail app.
Other enhancements include drag and drop filing of email, full HTML rendering across multiple languages, a much more attractive and usable calendar and address book, drag and drop attachments, full mail filtering, instant colour themes, and more.
This interface has been in PUBLIC BETA for over a year and we had thousands of members opt-in to use the new system in order to report back any issues that our small test group has missed. We've had lots of feedback and fixed a bunch of bugs. In fact, 20 new bugfixes and features went live this week – details available if you click 'changes' in the bottom left after your next log in. It is now nearing 'Production' status and we will be moving all accounts to it starting from the end of April. The previous webmail interface will remain accessible via your 'My Account' area for a while longer as a fall back legacy option but all developments from now on will be improvements to this new version.
Service stability at an all time high (99.999%)
We are really thrilled to say that over 2019 our service availability reached an all time high with 99.999% representing a nearly flawless year of service. Investment in our new infrastructure over the past few years has really paid off in allowing us to ensure that the service you rely on each day is there for you when you need it. We will continue our commitment to ensuring that reliability remains one of our core service delivery goals.
Customer Happiness Ratings (92% 'Great')
Last year we sent more than 14,000 replies to more than 5,500 support requests. Our dedicated service team is constantly one of our most praised aspects and this is reflected in the response to our 'Happiness Surveys' sent to over 1,300 people resulting in over 92% rating the service 'great', 5% 'ok' and less than 2% having any complaint. We also welcomed a new member of the growing support team so that we can continue to provide you service that goes "above and beyond" and hope to achieve 95%+ this year.
New Email Packages Due in 2020
The last time we reviewed our email packages was nearly 10 years ago. Since then the world has changed in many ways and we are going to retire the current set of email packages to introduce a line that reflects modern storage requirements. We make sure we are realistic with our pricing strategy, making it as affordable as possible whilst avoiding unsustainable 'overselling' of actual capacity. Even so, each of our new mail packages will have double the storage quota of our old packages.
We are retaining our package names but will increase their included quotas. Account prices, which have been untouched for nearly a decade, will be adjusted in respect of standard UK inflation rates and our improvements to service.
These new packages will go live at the end of April and apply from your next renewal date.
Email Account Packages 2020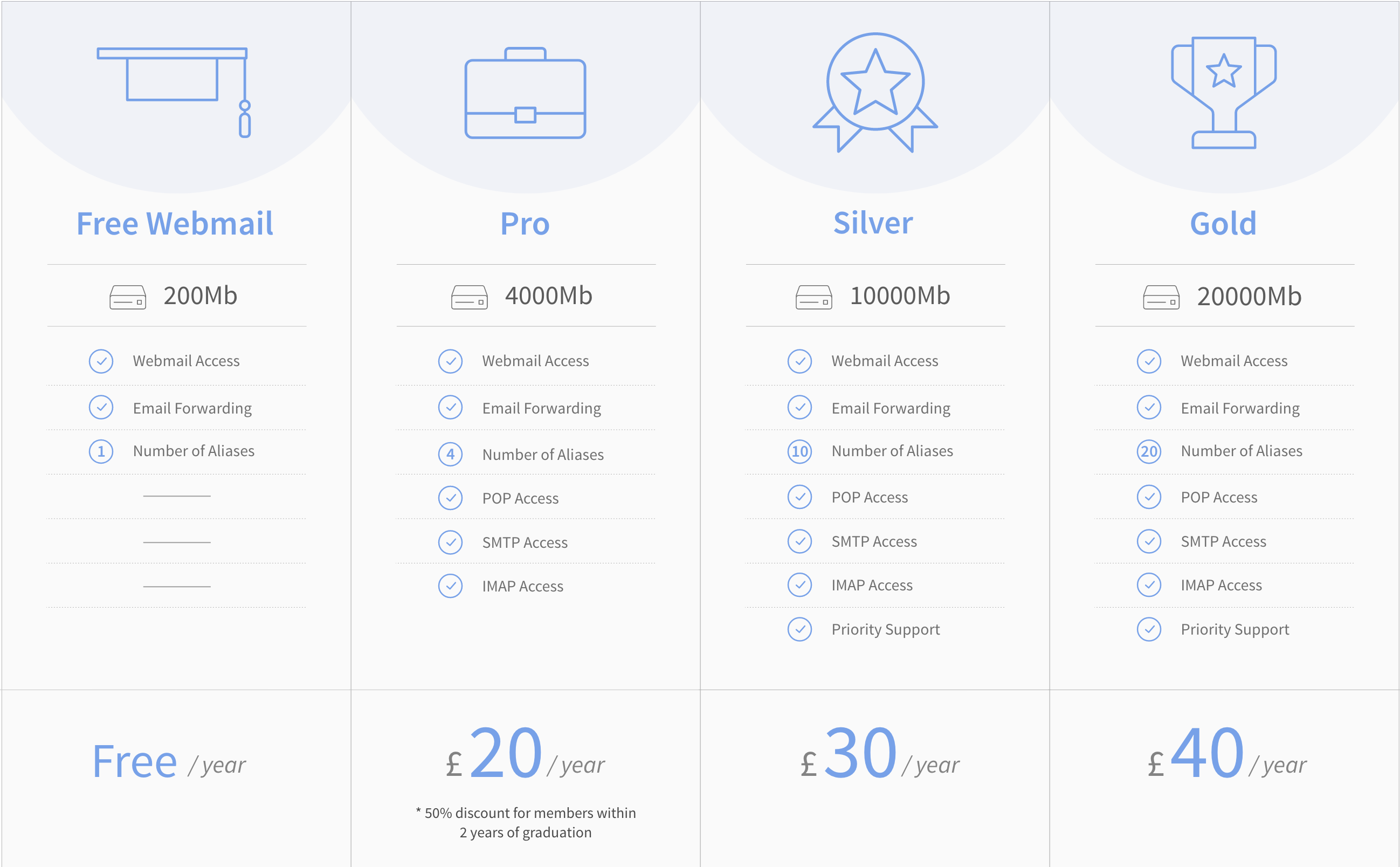 Add-ons

Welcoming Friends & Family in 2020
Over the years we have frequently been asked by members about allowing friends & family so that they may enjoy the same email service. Indeed a recent survey indicates interest from 40% of our subscribers. To support this demand we will be launching a service under its own non-institutional domain so that our members may invite others to join. We will be in touch with you once this service is live.
Finally, Thank You
Over the last two decades Aluminati has grown from a small niche provider of email services for a few hundred graduates to one that now provides a variety of different services to hundreds of thousands of alumni across dozens of top educational organisations worldwide. Some of our members have been with us since the very beginning in 2002 and I am so very grateful for your continued faith in our product and service. We remain committed to putting you at the center of our business respecting your needs, your privacy and responding to your requests and suggestions. As we expand we are adding talented people to our team who will be able to ensure that we can accelerate our pace of innovation across our product whilst maintaining our commitment to maintaining excellent service quality.
Yours sincerely,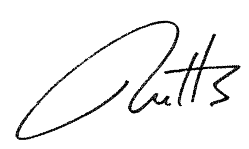 Daniel Watts