Social Network Sync
Your alumni are regularly updating
their social media data. Make it easy
for them to loop you in.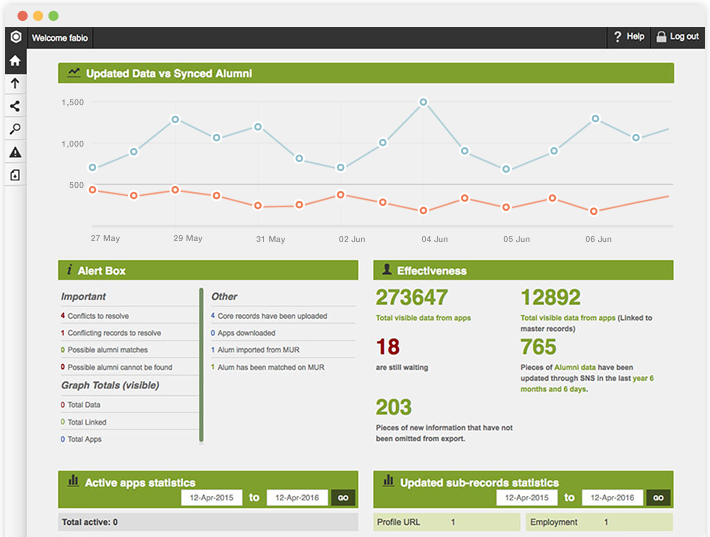 Fully approved by

Aluminati hold a formal license agreement to provide this valuable service to educational institutions. No more wondering if the data you receive is fully legitimate.

SNS works with any modern database but as Blackbaud partners we are particularly familiar with data exchange with the Raiser's Edge.
SNS Apps
SNS offers the option to track both LinkedIn and Facebook data. Users are presented with a branded application page which ensures they give full opt-in consent to sharing data with your institution.
Once permission is given, SNS will automatically check for changes to their profile data and ensures the user stays engaged with the app over the long term with its fully automated re-engagement process.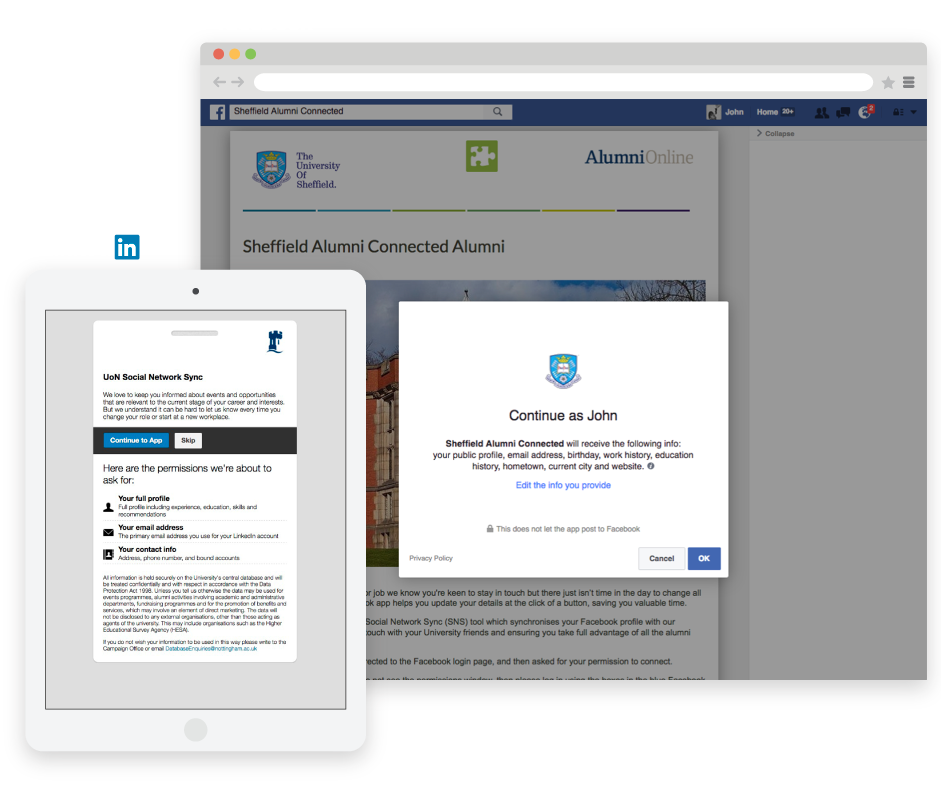 SNS Data
Social networks such as LinkedIn and Facebook are huge repositories of valuable constituent data. More importantly, users of these sites are often very diligent about keeping their profiles up to date due to professional and social motivations.
Whilst some of your members are 'super engaged' and will fill out paper or electronic forms, the vast majority find it hard to find the time, even if they want to stay engaged. SNS enables this busy majority to stay connected with far less effort.
| Data Available | | |
| --- | --- | --- |
| Name and Bio | | |
| Location Details (City, Country) | | |
| Email Address | | |
| Personal Statement | | |
| Detailed Employment History | | |
| Educational History | | |
| Endorsed Skills | | |
| Profile Website Link | | |
SNS Data Package Options
You can choose from three levels of data management depending
on the capabilities of your data processing tools.

SNS LITE
Deploy fully branded social apps, monitor data and receive all the raw data collected.

SNS MATCH
After retrieving social data, SNS will efficiently match the data to records in your own database and ensure your data is augmented with your own database IDs.

SNS SYNC
Full data control with a customised data model that understands your own database. SNS Sync provides the ability to compare all collected social data against your own database, resulting in fully de-duped and de-conflicted data.
Testimonials
Stories of SUCCESSFUL Social Network Sync services
SNS app

Nottingham launched their SNS apps to alumni and received over 1000 alumni participating within the first 3 months providing 500 updates within this time frame – including a huge number of updated employment details.