Reading Time:
3
minutes
Rehiring past employees is a practice that has steadily grown more popular in recent years, we cover tips for rehiring, as well as some useful boomerang employee interview questions and answers.
The concept of taking on individuals who have already worked in a business and decided to move on might first seem strange, but there are many benefits to rehiring 'boomerang' employees.
Boomerang employees can easily resettle in a familiar company culture, but with the extra experience and skills that they've learned since their previous tenure.
Can I fast track boomerang employees?
You might be tempted to get a boomerang employee into their new role without going through the usual hire process. But you should consider questions such as:
How long did they work for the business?
What was their position before and what are they applying for now?
How long has it been since they left the business?
How much has changed since they left?
If the business has remained fairly static in terms of culture and size since the employee last worked there, and it hasn't been that long since they left, you may think that it's best to simply get them back into work without too much paperwork. This is especially true if the ex-employee has stayed in touch through a corporate alumni platform.
However, don't forget that the employee has been working under a different employer with a different company culture and under a different cultural leadership style, and they will still need to relearn a lot of aspects of your business and working alongside old colleagues.
For these reasons, boomerang employees should be hired using the same process that you'd use for fresh candidates.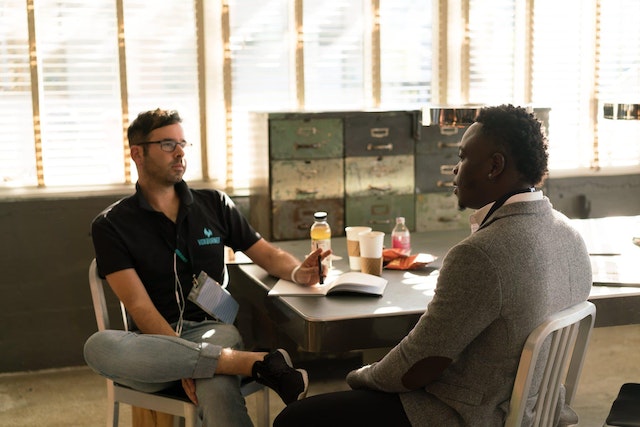 Boomerang employee interview questions and answers
Conducting a boomerang employee interview can be an interesting experience, particularly if you conducted an exit interview with the same employee when they left the business. You can compare their impressions of the company when they left to their expectations for returning, and think about how to reintegrate them accordingly.
Some boomerang employee interview questions you might want to ask could include:
What makes you want to come back?
This gives you a good idea of what they're expecting; whether it's that they miss their former colleagues or that they simply want a higher wage. This can help disillusion some tougher choices, particularly if there is a fresh candidate who is highly passionate about the business itself.
What have you learned since your last role here?
This is a straightforward way to gauge what skills the boomerang employee is bringing back with them, and whether they're truly competitive with the other candidates in the pool.
What ideas would you bring to the role?
Questions like these test the boomerang employee a little more and ensure they're willing to reintegrate with the business. They might be bringing a good idea from their work in the interim, making good use of their time outside of the business and applying it to their return.
A boomerang employee interview is certainly an interesting form of interview, and takes a great deal of bespoke consideration by your interview team!
To learn more about Aluminati's dedicated platforms for corporate alumni such as our specialist corporate alumni management platform, contact us today.