Transform your Workplace
into your Work
Community
Connect your staff within a single highly configurable platform to help strengthen culture, happiness and productivity.
Accelerate
Onboarding
Offer a great induction experience to reduce the time needed for new staff to settle in, feel welcome, and familiarise themselves with their new role.
Strengthen
Your Brand
Bolster your EVP by enabling unlimited groups, targeted at particular regions or interests, and give staff relevant spaces to exchange ideas and bond.
Enable
Professional Growth
Allow your staff to share and discover opportunities for professional growth and progression within your organisation.
Enable
Networking
Enable meaningful relationships to increase knowledge transfer, collaborative working, productivity, wellbeing and innovation.
Build Your
Alumni Network
Create long term relationships with your former employees to attract back talent, discover warm business opportunities and encourage brand advocacy.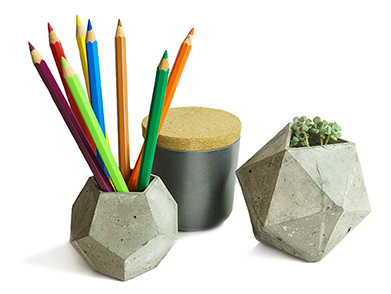 Premium Engagement Modules
Enhance your platform with a range of relationship-driven, content-driven and administrative modules.
People Directory
Create your perfect user profile page and then deliver dynamic discovery pages to enable your members to search and connect with others in your WorkCommunity. You can even make the directory available to those who haven't yet registered with our unique 'stub profile' system.
<–HIDE CLASS ADDED TEMPORARY – FABIO–>
More info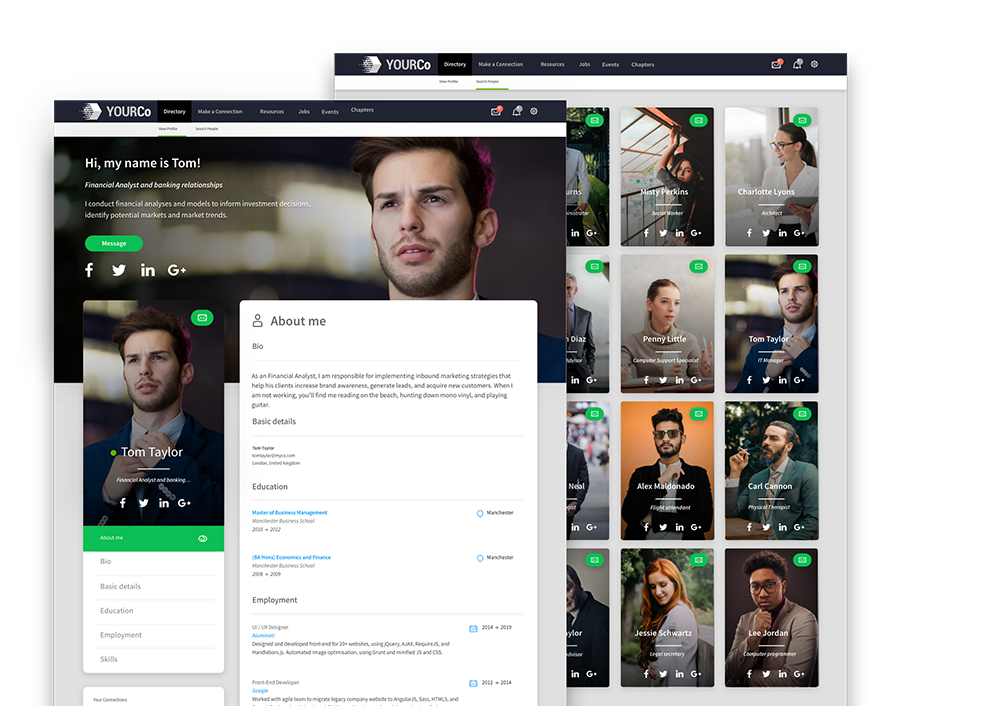 Interactive Chat Messaging
Beautiful chat, but more. Aluminate includes a fluid and intuitive chat interface used not only for traditional messaging but also coordinates actions such as handling inter-member connection requests. Users can view the full history of your relationships on a single channel.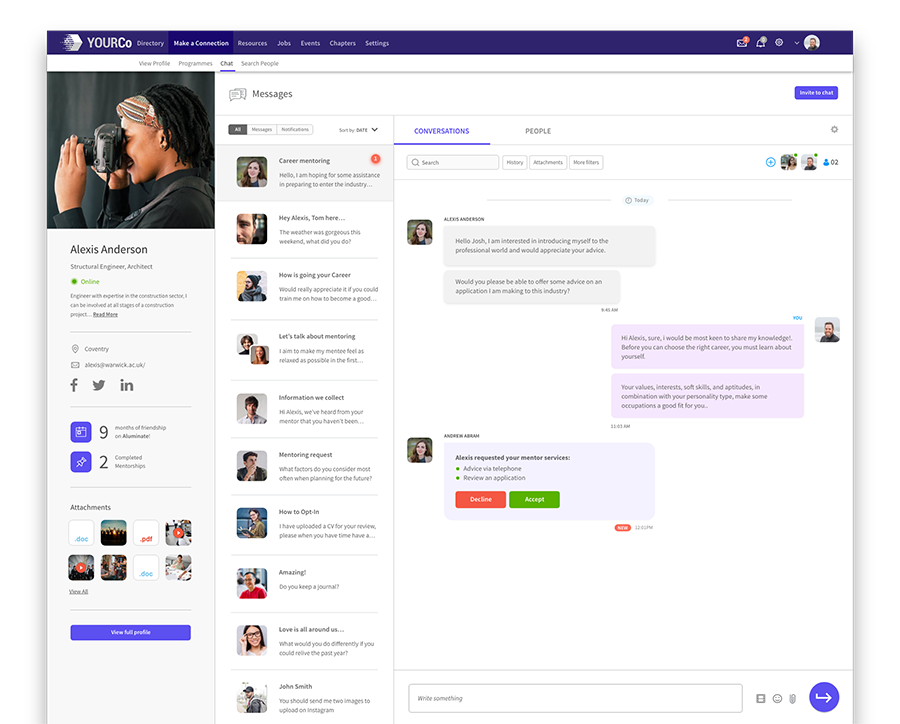 Open Connection Networks
Deploy multiple targeted, self-organising, mentoring and support networks. Each network can service a different connection profile – for example staff-alumni, alumni-alumni or even staff-staff. The user-managed request interaction scales globally with minimal staff resource. Aluminate eMentoring avoids the resource-intensive process of manually matching mentors with mentees but includes all the necessary functions to safeguard the user experience.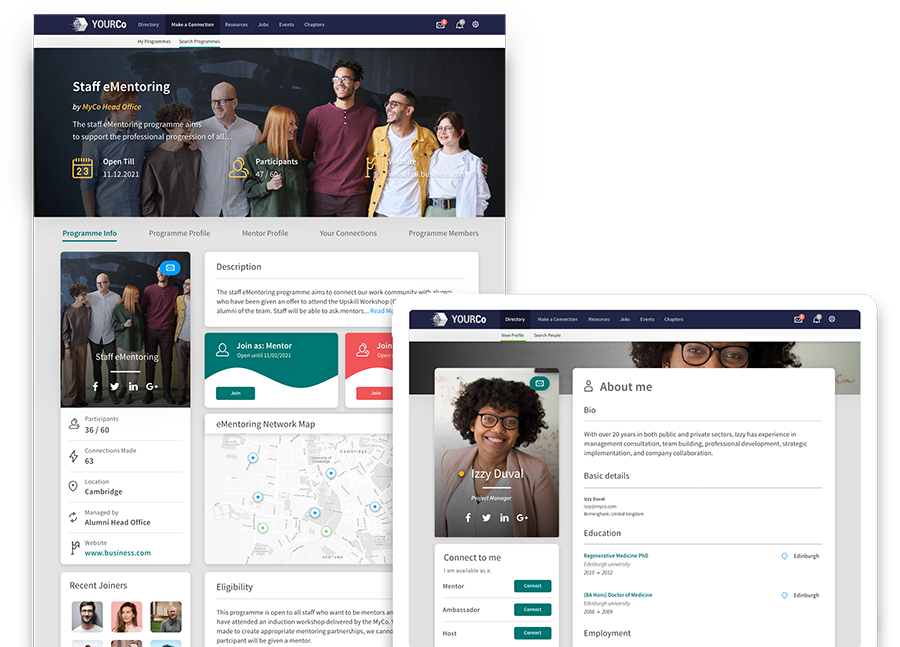 Managed Connection Networks
All the flexibility of the Open Networks but for more serious connection programmes with a commitment of 'high touch' staff resource to maintain quality. Aluminate allows you to approve who has access to Managed Networks as well as quality check requests between members. This delivers the perfect 'high tech, high touch' solution and is great where your participants are VIPs or require extra support.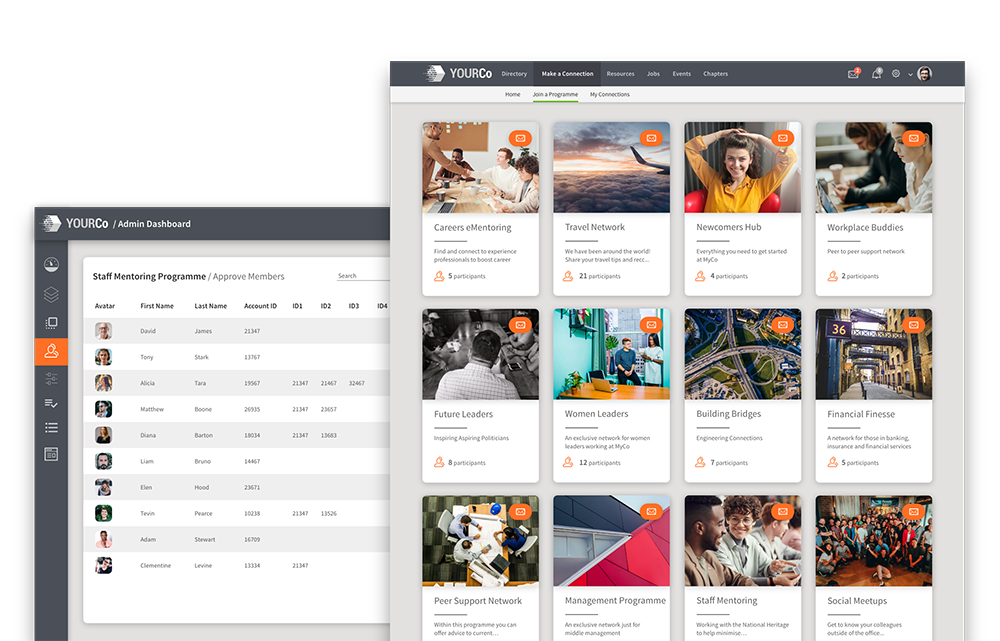 Newcomers Hub
A great induction experience reduces the time needed for new staff to settle in, feel part of the community and become productive. 
Staff Groups
Create unlimited groups based on region, location, interests , department and more. Appoint staff to manage membership requests, content and discussions.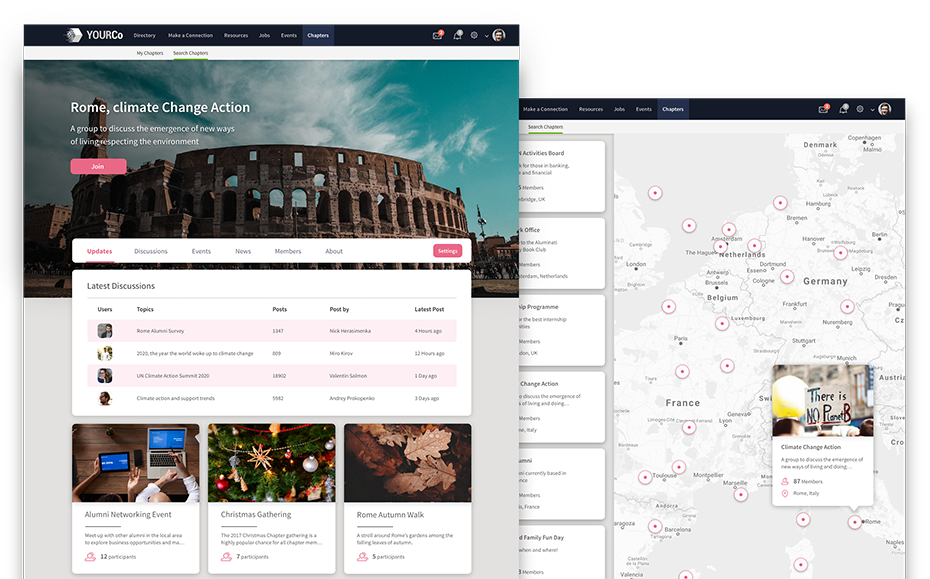 Digital Library
Share your photos, articles, documents, videos and other media in this flexible digital media repository.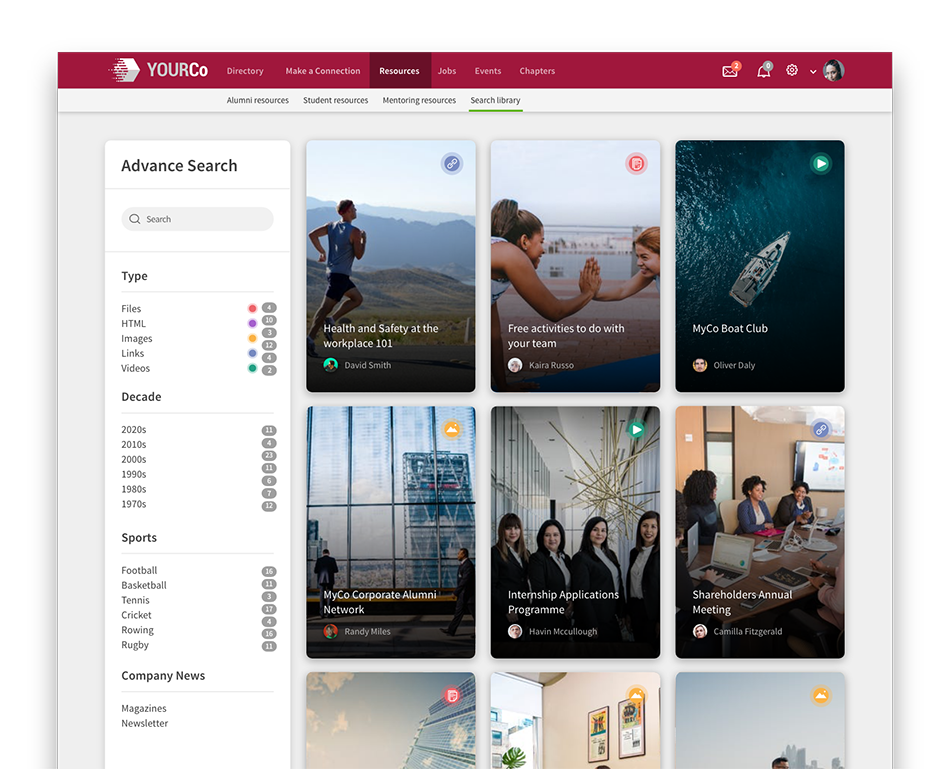 Opportunities Board
Exciting internal opportunities for your staff to share and access, encouraging collaboration and internal progression.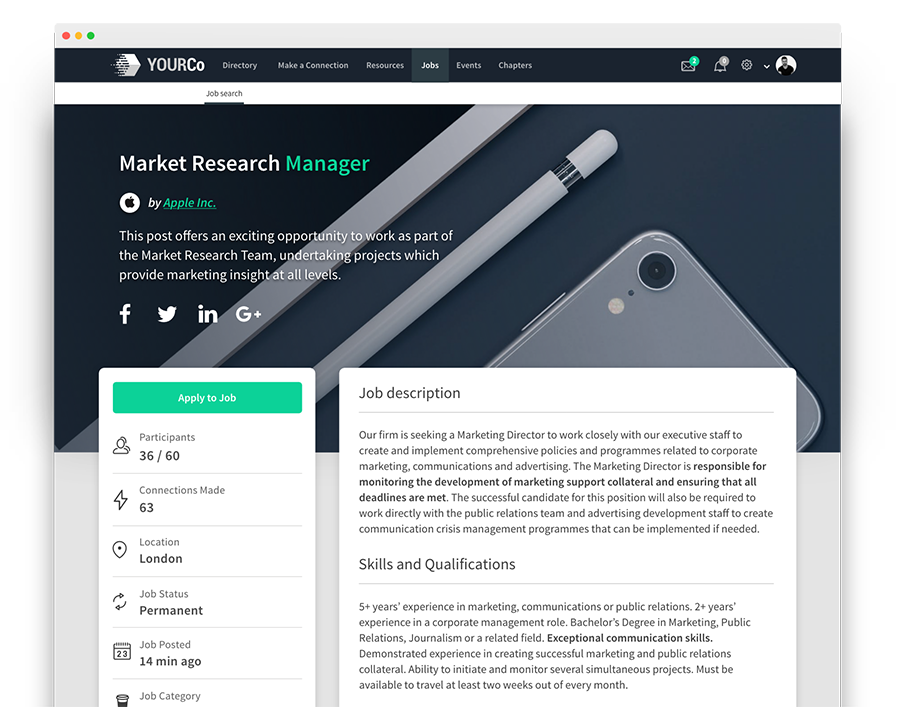 Events Board
Make sure your WorkCommunity stays aware of upcoming events. Including RSVP functionality and attendees lists, each event can link to the ticketing page appropriate for that event – be it your own event system, Eventbrite, Facebook or even a Doodle form.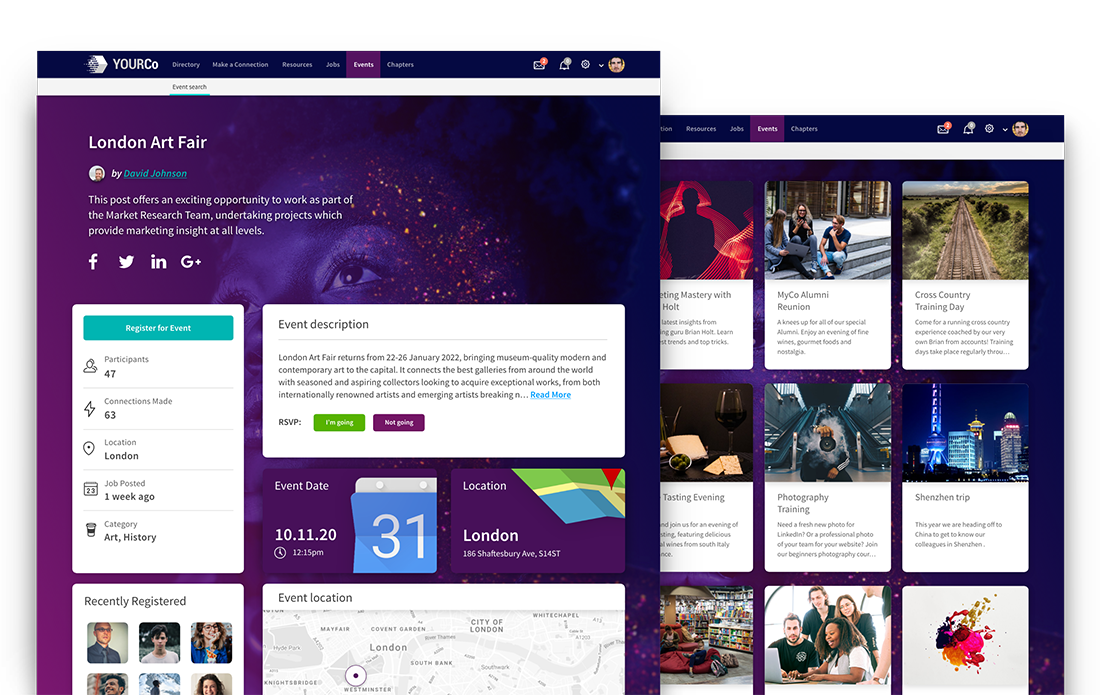 Alumni Portal
Create long term, trusted relationships with your former colleagues to attract back talent and discover warm business opportunities. Yesterday's employees can be tomorrow's customers, your best brand advocates, or your most qualified rehire.
Social Media Centre
Embed an unlimited number of social media feeds from Facebook, Twitter and YouTube and any other social network which permits your company content to be integrated into a tidy board within your platform.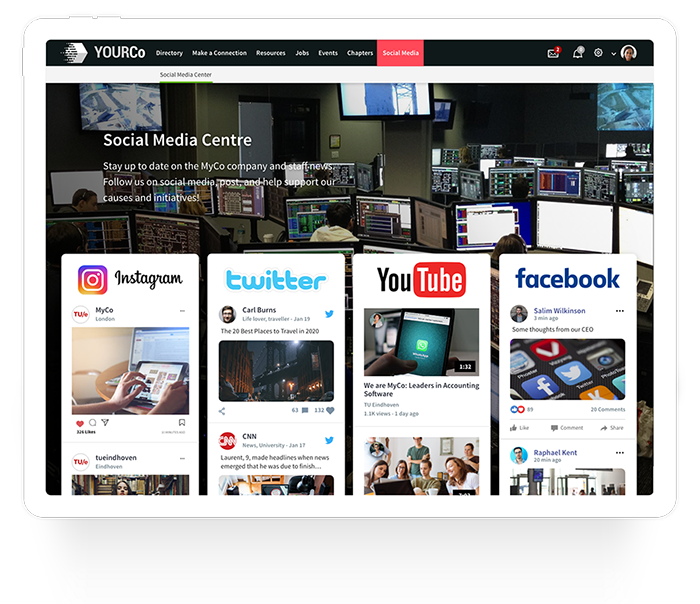 Realtime Dashboard
Display your community's news, highlights and information on an ever changing landing page.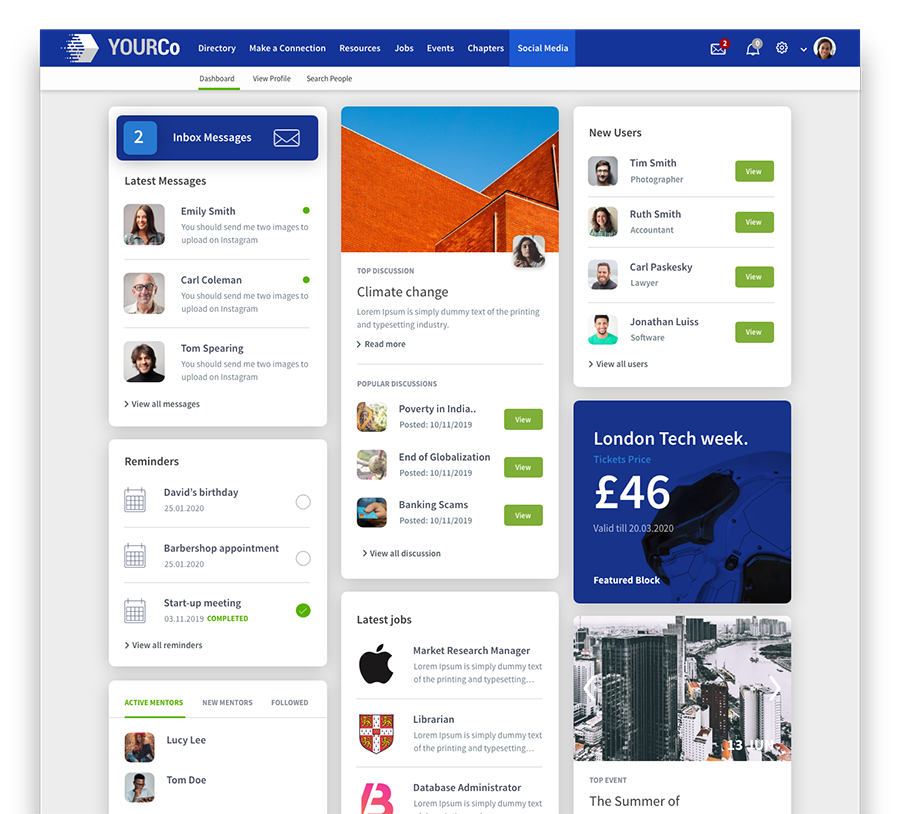 Customisations
You can customise the design, profile fields and every word within your tailored platform so that your members feel truly at home.

Identity Validation
To create a safe and high-trust environment, all registrations are put through a rigorous but efficient identity verification process.

Management Tools
Authorised staff have access to a powerful management area from which they can steward the community, run reports and manage data.

Data Imports and Exports
Use your own data to 'seed' the profiles of users and then export fresh data that users have updated, all tied back to your own database ID.

SSO & Integrations
Advanced installations of Aluminate can benefit from standard or bespoke single-sign-on and data integrations.

Custom User Groups
Aluminate allows you to customise the full experience per user group, be it branches, teams, staff, alumni and more.
Testimonials
Stories of SUCCESSFUL Aluminate services
e-Mentoring scheme

The e-Mentoring scheme that has been set up at Lincoln College, Oxford, is now one of the College's proudest achievements in my view, giving career advice to students that very few will have access to.